·【NO DRIPPING PASTE FILLING DEVICE】- This paste filling machine has an efficient filling performance. Equipped with a 30L hopper with a large inlet volume at once. A rotary valve control the transfer of paste material to the outlet, no dripping.
·【ARBITRARILY CONTROLLABLE PROCESS】- With large power air cylinder, the whole filling process is controllable, including the operating speed of air cylinder, filling speed, and filling volume, to meet different needs for accurate filling.
·【STAINLESS STEEL CONSTRUCTION 10-300ML】- Large Capacity: 10-300ml. Pneumatic shampoo filling machine is made of stainless steel materials, resistant to corrosion, rust, acid and alkali. Easy and safe to operate, remove and clean switches for better operation of the machine.
·【ADVANCED AIR PRESSURE GAUGE】- Adopt air pressure gauge to accurately monitor air pressure change. This cream filling machine needs to work with an air compressor(not offered).
·【VARIOUS APPLICATION】- Pneumatic filling machine is suitable for all liquid and paste without particles, like cream, shampoo,oil, toothpaste. Perfect for usage in any fields.

·

Friendly Note

:
The product may be in different stock, so they may be sent separately. Pls do not worry,you will receive ALL the parcels in recent days after the order.
Needs to connect the pneumatic liquid filling machine with air compressor. (Air compressor: Power ≧ 1.1kw; Gass Capacity≧ 40L).
Package Content
·1 x 10-300ml paste filling machine ·1 x 30 L hopper ·1 x Piezometer ·6 x Screwdriver ·1 x Foot Pedal ·5 x Spacer Sheet ·1 x Power Cord ·1 x Kit of accessories
This semi auto filling machine is designed for doing filling of paste and liquids. It can help you to fill a mount of quantitative paste, liquid as well, in the fields of daily chemistry, food and beverage, pharmacy and so on.
01 Operation panel
Simple panel operation is simple, plug the power cord design, the interface is simple and easy to operate.
02 Filling adjustment joystick
Adjust the filling amount of the handle,you can adjust the amount optionally, the operation is very convenient.
03 filling adjustment knob
Filling adjustment knob to make the material easier to master, easy to adjust, easy to use.
04 barometer

The utility model adopts a detachable barometer, which is convenient for cleaning and maintenance.
Large capacity stainless steel hopper, a feeding can work for a long time.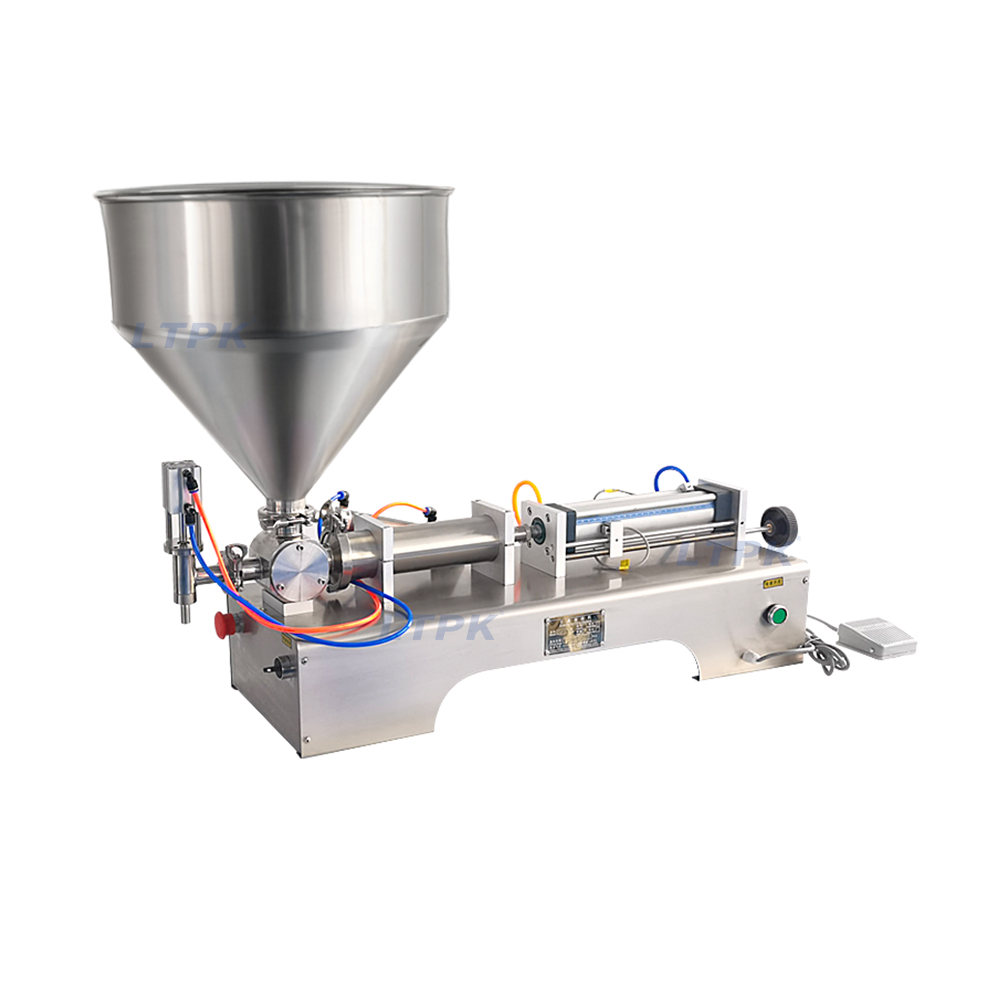 Our service