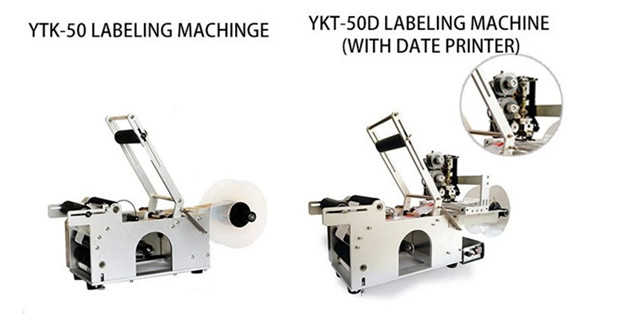 YTK-50D Semi-automatic Round Bottle labeling machine

is ideal equipment for semi-automatic labeling of house hold chemicals, food and beverage, pharmaceutical, chemical, and the round bottle in the other light industry products on the packaging. This machine is suitable for round bottles of various sizes and the production of small quantities of many varieties. This machine can be used in stand-alone label only. For other uses, please consult your manufacturer. For damage resulting from any non-compliance with prescribed use,the manufacturer is not responsible for warranty.Such risks are borne by the user alone. Strict compliance with the instruction manual is part of the requirements of this machine.

This machine has a reasonable structure, reliable performance and simple operation with optical detection and accurate labeling. 1. It applies advanced labeling agencies to ensure that the labeling accuracy. 2. It has bottle label for a variety of specifications with strong adaptability. 3. Label light sensitivity is adjustable. For label backing paper of different transmittances, it could compare and adjust the sensitivity and compare and make the best adjustment to the label of different lengths to ensure the normal feeding and smooth and accurate labeling. 4. All agencies, including the rack, and feeder, barrier boom and fastener adopt stainless steel and aluminum materials, which never rust or produce any pollution. It ensures GMP environmental requirements. 5. System control components all have ISO certification and undergo a rigorous assessment of incoming plant test to ensure the reliability of the various functions.




This series of labeling machines are the products which have been innovated and reconstructed with reference to advanced labeling machine technology at home and abroad. Its structure is more simple, more accurate and easier to operate.




Imported light beam seat CD guide rod sensor location is more precise.




High power high speed motor, higher output power more stable operation and long time operation will not have a problem.




Supporting roller and pressure roller bottle bottles are made of high-quality rubber production, fixed bottle.




Feed tray adjustable rotation, adjustable elastic screws according to the actual demand, simple and convenient.

The high quality paper delivery wheel runs smoothly and smoothly, and effectively improves the work efficiency.

Stainless steel thickening body with thick pendulum arm never deformation

This machine use to label the PET bottle,plastic bottle,glass bottle and metal bottle.It is widely use for foodstuff,beverage,rice and oil,madicine,daily and chemical filed.This machine impeove label speed and label quality.
Inquiry Us