It's a kind of liquid filling method which uses microcomputer to control filling time, motor speed and other factors of micro water pump to achieve uniform liquid filling with minimum repetition error. Magnetic pump head is driven by magnetic force, pump wheel is connected with the motor without shaft. no need worry about the damage of the shaft seal or the burning of the pump due to the high load. Pump head is made of SS304, which is acid and alkali resistant and corrosion-resistant,Reliable, long service life.
Adopts corrosion-resistant stainless steel micro self-priming magnetic pump of special materials. The working time and intermittent time of the pump are controlled by microcomputer to realize quantitative automatic filling and automatic setting of tube loading time. simple structure, convenient operation, lengthening the material nozzle and moving the leather tube arbitrarily,can meet the unlimited capacity of more than 5g. Reliable and durable filling equipment. Can be customized to extend the tube mobile filling, convenient and practical.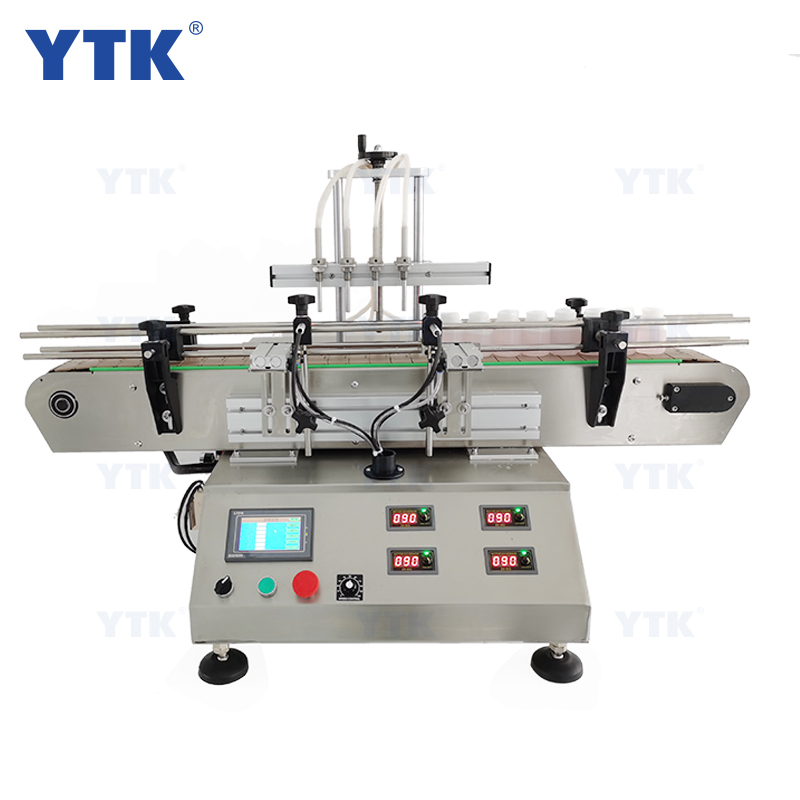 Specification
Widely used in medicine, chemical industry, food, beverage, grease, cosmetics and other industries.
Suitable for filling almost all flowing liquids, especially for filling oil, washing liquid, acid-base liquid and corrosive liquid.
PLC touch screen control panel, easy to set the parameters of the machine, panel language can be customized according to the needs of customers, if you need, please contact us.
Equipped with pneumatic heads,it can fill liquid accurately and quickly.The filling speed of 4 heads can be adjusted separately,easy to operate.And the height of heads can be adjusted as needed,making it suit for different bottles.
The chain conveyor belt has the advantage of large loading capacity, which can convey bottles steadily.The width and conveying speed of it can be adjusted as needed.