Our continuous vertical band sealer FR-900 is for packing and sealing of solid and liquid goods and suitable for sealing and bag-making of various plastic and compound films. It uses an electronic constant temperature mechanism and speed adjusting transmission mechanism, making it suitable for the assembly line. You can print the production date, logo, etc., on the package of your products simultaneously.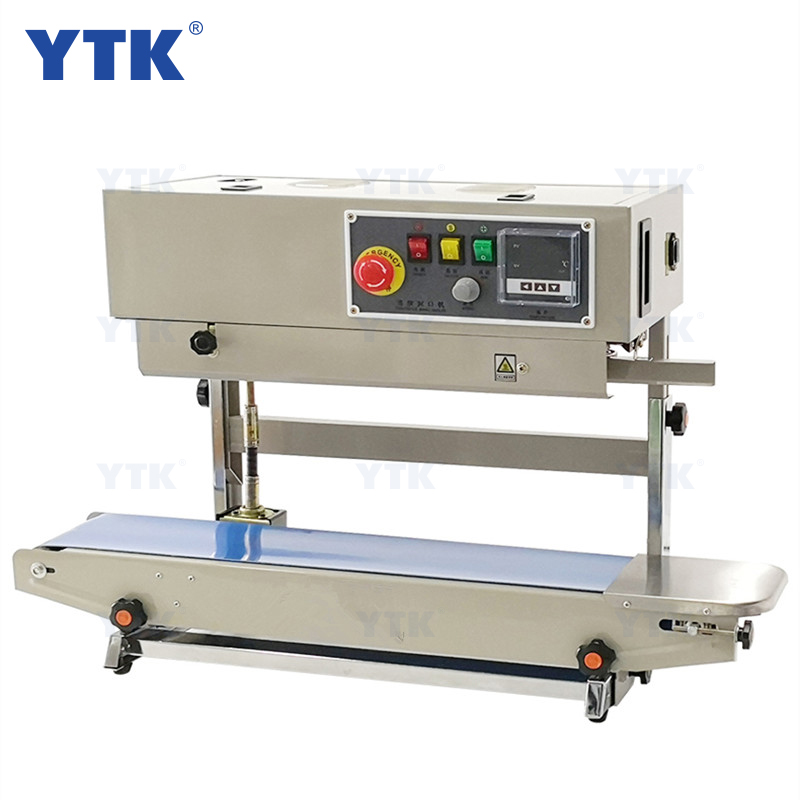 This automatic sealer is perfect for the production line, suitable for food, medicine, daily necessities, seeds packaging, and suits many different film materials, such as PP, PE, PV, OPP, PS.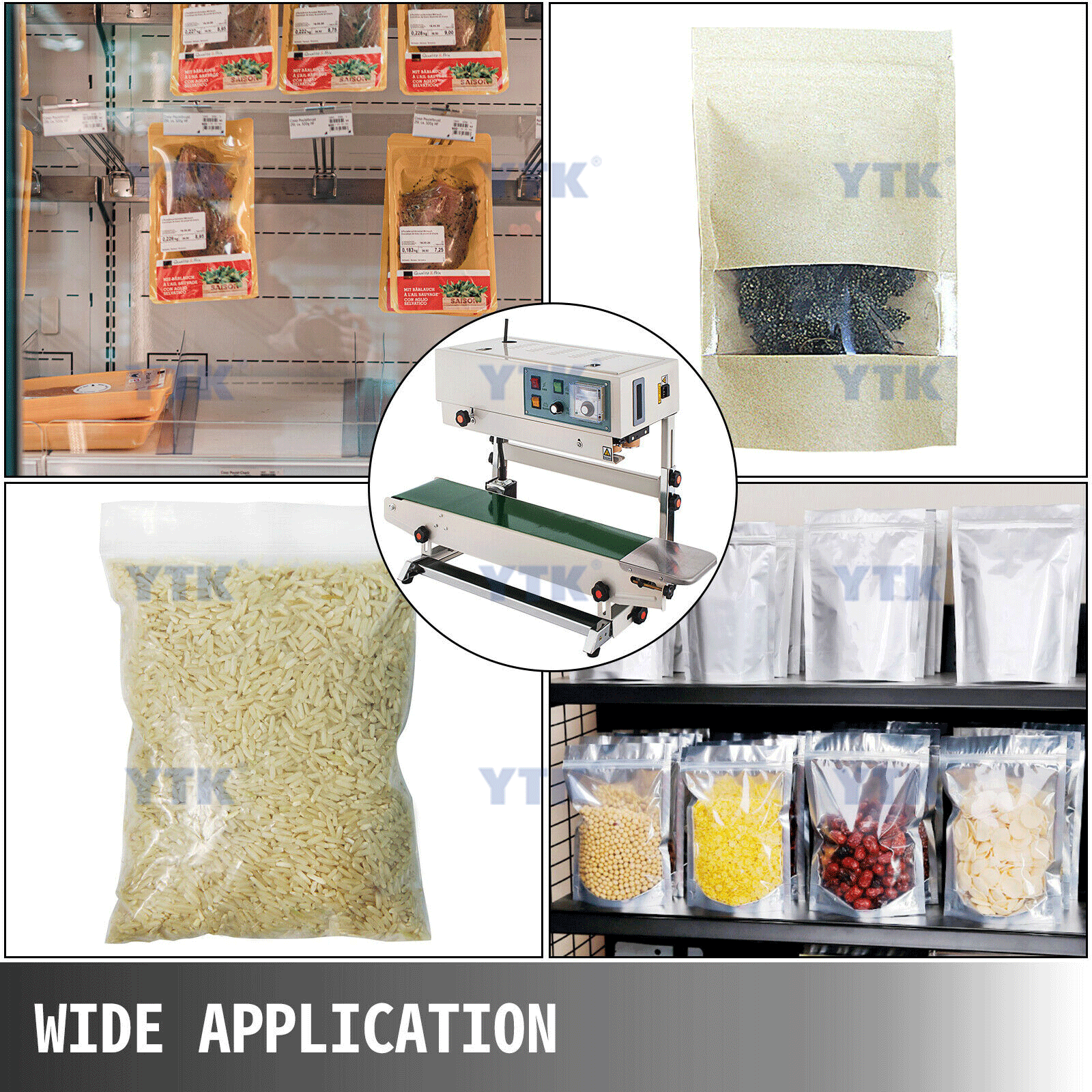 ·【STRONG & WIDE SEALING】 - Sealing Width: 6-15 mm, Film Thickness: 0.02-0.8 MM, Sealing Speed: 0-16m/min. Sealing Length: Unlimited. This sealing machine fits different seal assembly lines with a thickened conveyor belt.

·【DURABLE MATERIAL】 - The continuous sealer has an all-metal construction with durable electrostatic paint treatment. The heating block and cooling block are made of pure copper. This premium material is solid and wear-resistant.

·【HUMAN-FRIENDLY DESIGN】 - This auto sealer supports horizontal and vertical operations. It features an easy-to-operate control panel, and adjustable height and pressure to meet different demands. Two handles make it a portable machine for users to move.

·【CONVENIENT PRINTING】 - This band sealer machine can
seal all kinds of length size, and have different sealing pattern effects. Equipped with embossing wheel and print wheel, it can print date, remark, time, logo simultaneously.

·【WIDE APPLICATION】 - This kind of seal machine is suitable for the seal of the plastic bag, aluminum foil bag, compound bag in the medicine, the agricultural chemicals, food fields, etc.

Automatic Sealing

The sealing machine is equipped with a thickened conveyor belt, durable, and anti-friction. Sealing Width: 6-15 mm; Sealing
Length: Unlimited. Film Sealing Speed: 0-16m/min.

Superior Quality

The continuous bag sealer machine has a reasonable frame, solid and robust. The heating and cooling blocks are made of pure
copper. Heat and shape evenly.

Simple Operation Panel

Easy to operate the continuous band sealer with an easy-to-understand control panel. You can control the fan, heat, and speed.
There is a device for monitoring and adjusting the temperature.

Adjustable & Portable

The up and down and front and behind of the conveying table are adjustable. The pressure control button can be adjusted to meet
the different thicknesses of films. Two handles are for easy carry.

Date Printing

It comes with a full copper type wheel with letters and numbers. You can print the production date, time, etc., in the film. It is
also equipped with an embossing wheel.

Package Content


·1 x FR900 Vertical sealing machine
·1 x Box of Printing Accessories
·1 x Power Cord
·1 x Installation Accessories
·1 x User Manual